Nestled in the serene countryside just outside of Washington D.C. lies Prince William County, VA. The area is home to historical Civil War battlefields, miles of scenic farmland and one of the only advanced aerobic composting facilities in the country: Freestate Farms.
Since 1994, the Balls Ford Road Compost Facility in Manassas, Virginia has been processing and composting ~30,000 tons per year of green waste, including yard trimmings and garden debris from surrounding communities. The site's composting process utilized windrows as its method of decomposition of organic waste. Over the years, as demand for green waste recycling continued to grow, so did the need for additional space and a way to address non-compostable contaminant materials that were entering the organic waste stream, namely plastic bags. Since the Balls Ford Road facility was unable to expand its footprint to accommodate more material using the same static windrow process, developing a new sustainable, growth-ready facility became high priority for the region.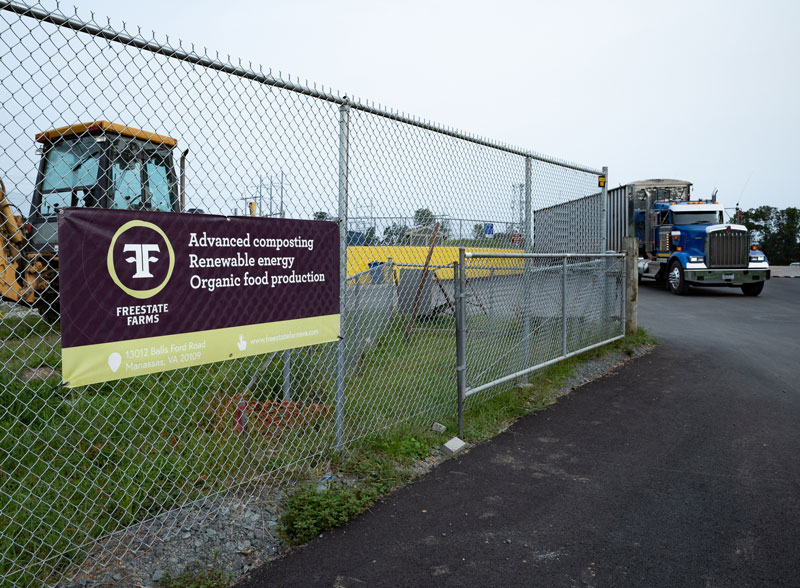 In 2015, Prince William County awarded a 20-year contract to Freestate Farms, LLC to run the Balls Ford Road facility. As part of the awarded Public-Private Partnership (PPP) contract, Freestate Farms would also design, finance and construct a new advanced composting facility to better support the County's effort to process the growing supply of organics waste. The new facility construction project was to be implemented in two separate phases.
In March 2019, Phase One of the project launched with the planning and design of a new 14-bunker aerated static pile composting system with an aerated curing pad, developed by Engineered Compost Systems (ECS). After 16 months of construction, Phase One was complete and included a waste processing line with an industrial shredder, manual sort line and pre-compost material mixer—all to prep the incoming material. Operation of the new composting system began in July 2020 and, since then, has been ramping up to the facility's estimated capacity throughput of ~80,000 tons per year.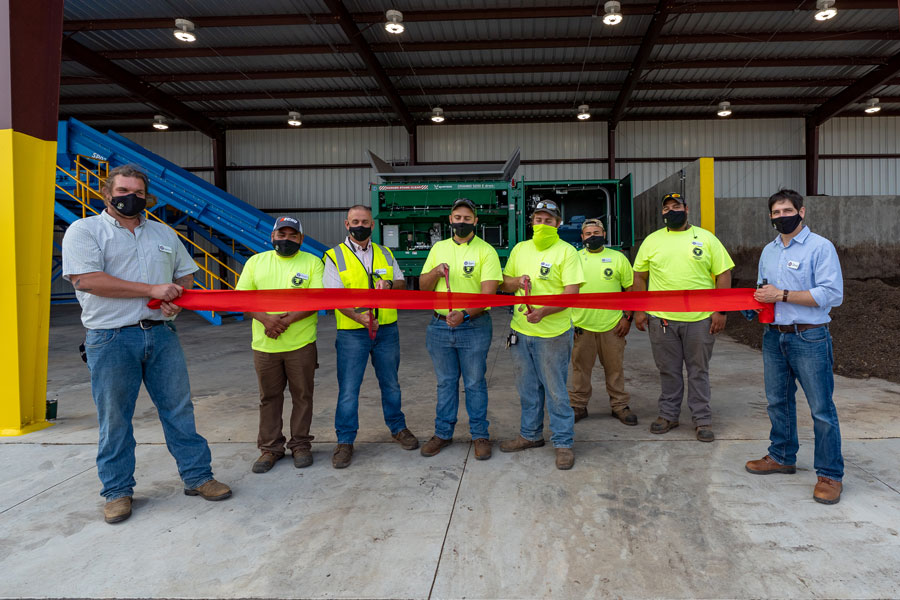 The next phase of the project includes: additional advanced aerated composting that will again double the site's capacity for recycling food and yard waste; renewable energy generation (both electricity and heat) that will offset the facility's own demand, and; the growth of indoor organic produce (using on-site generated compost products and renewable energy) for sale to the local community. Phase Two construction is slated to begin later in 2021 and expected to take 12-15 months for completion.
"We are proud to have completed Phase One of this new facility and built it around three main principles," said Douglas Ross, Freestate Farms' CEO. "First, we wanted to create a high-quality compost by meeting the local community where it is today and where it is going over the next 5-10 years. Second, we wanted to promote a working environment of safety and efficiency. And, finally, we wanted to minimize the region's and our own environmental footprint."
The Beginning of Growth
In 2012, Denton Baldwin owned and operated a successful Virginia-based business that supplied healthy, local crop products to area farm-to-table restaurants. While his produce supply business flourished, Baldwin also found himself struggling to procure consistent sources of high-quality, nutrient-rich soil that could be used on his farm as a key ingredient for healthier, tastier crops. In an entrepreneurial effort to not only sustainably improve the quality of his farm's soil but also meet the demand of his customers, Denton founded Freestate Farms.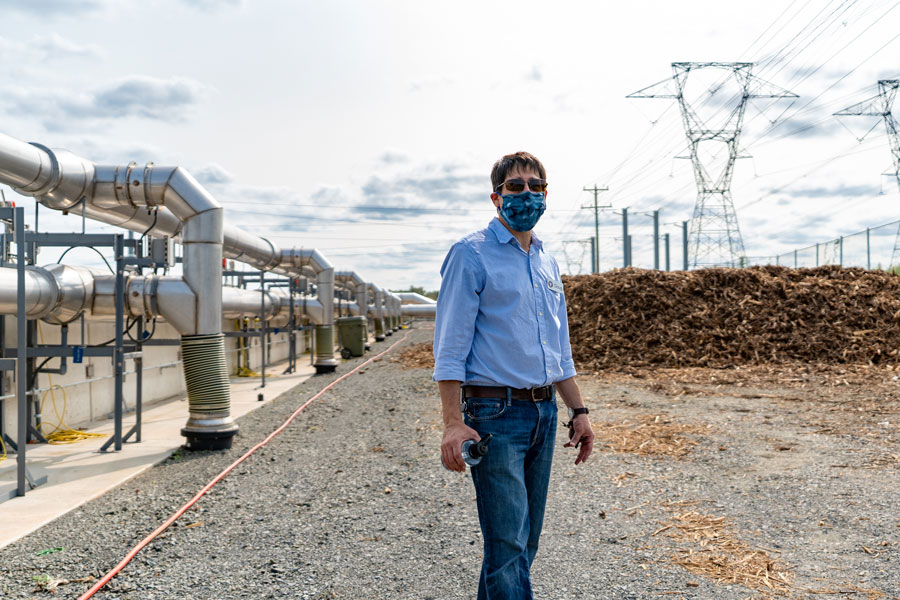 Along the way, Denton met and began working with now Freestate Farms CEO, Doug Ross, who brought with him significant knowledge and expertise in leveraging organic waste to produce clean energy, as well as project financing structures available to develop commercial-scale facilities. Soon after, Denton and Doug succeeded in winning a public solicitation for an opportunity to work with Prince William County, which at that time, was looking to expand the area's existing compost facility. With the intent to diversify and grow their facility's incoming feedstock supply and throughput capacity, Denton and Doug began work on the initial design of the facility that we see today.
It's a Science and an Art
At its core, compost is decomposed organic matter. However, the term "organic matter" can be broad in definition, as composters like Freestate Farms see a wide variety of incoming organic waste ranging from yard trimmings and leaves to coffee grounds and tea bags in both residential and commercial food waste.
Compost is comprised of three essential natural ingredients: carbon, nitrogen and oxygen. Adding carbon (brown materials) to nitrogen (green materials) and combining them with plenty of oxygen, moisture and warm temperatures, creates a nutrient-rich, odor-free product called compost. When compost is amended to existing soil it improves the health and moisture retention of the soil, promotes healthier root systems and plant growth, and significantly reduces the need for chemical fertilizers.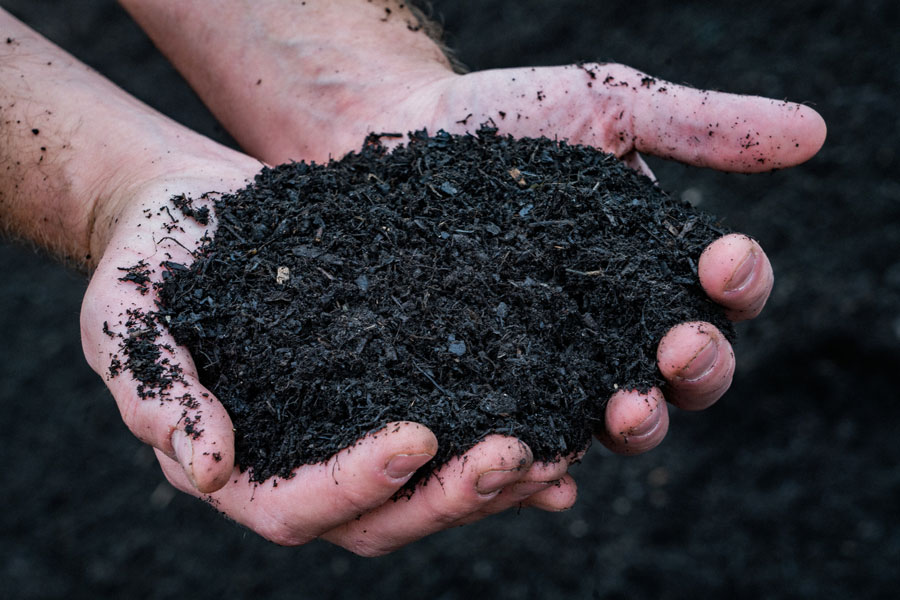 When it comes to producing quality compost on a commercial scale, although these basic building blocks stay the same from facility to facility, the formula and process for each is highly varied.
"There is a science, but there's also an art to it," says Richard Riedel, Freestate Farms' Director of Marketing. "On a daily basis, we don't always know what type of food we might receive—it could be a bunch of kitchen scraps or a truckload of turkeys–but we will need to process it quickly. Our new facility lets us identify and process these variable incoming food scraps into a balanced, healthy mix for the composting process. Ultimately, we're always coming back to those three building blocks of carbon, nitrogen and oxygen."
Everything Starts With Tipping
The first step in Freestate Farms' composting process begins at the waste tipping area of the composting facility. This is where incoming customers from around the Washington DC metropolitan region drop off compostable waste materials, which become the feedstock for the organic decomposition process. Whether the waste materials are received from individuals, county and community partners, or contracted haulers, Freestate's tipping area has been purposefully designed with enough space for multiple trucks to unload quickly and safely and return to the road easily.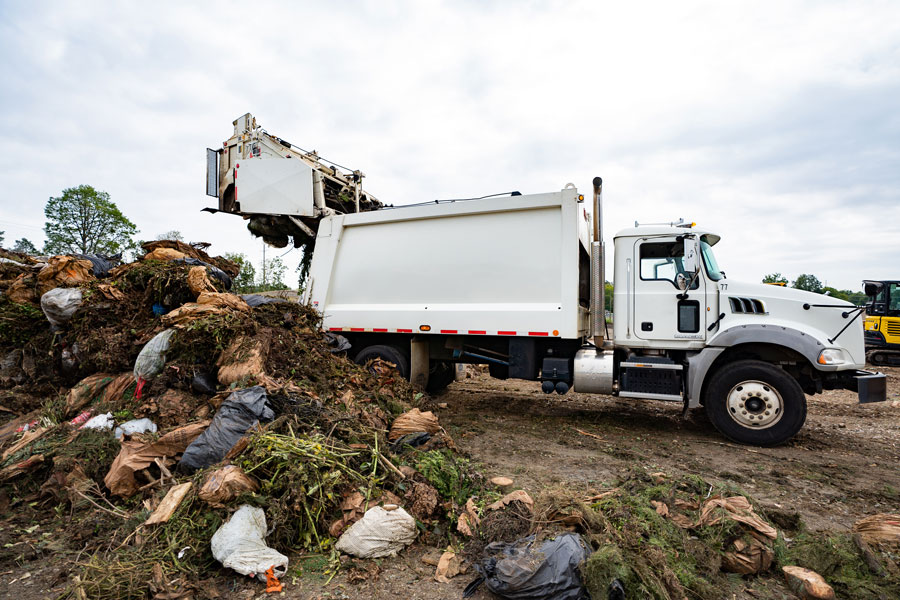 Contaminant Size Matters
The next step in the process is to reduce the feedstock materials to a uniform size so that non-compostable contaminants can be easily removed and the remaining organic materials are optimized for the decomposition process. At this stage, some composting facilities choose to use high-speed grinders, with the hope of processing as much material as fast as possible. However, this method can produce negative results.
Organic waste, especially food waste, typically contains non-compostable materials mixed in, such as plastic bags, plastic utensils, cups and plates, pet chew toys, glass bottles, etc. When these raw materials are sent through a high-speed grinder, they are reduced to sizes usually smaller than 2-inch minus. Particles this small end up decreasing airflow in the compost piles and make non-compostable contaminants too small to remove. This results in a less than healthy finished compost product that contains plastic and glass fragments throughout.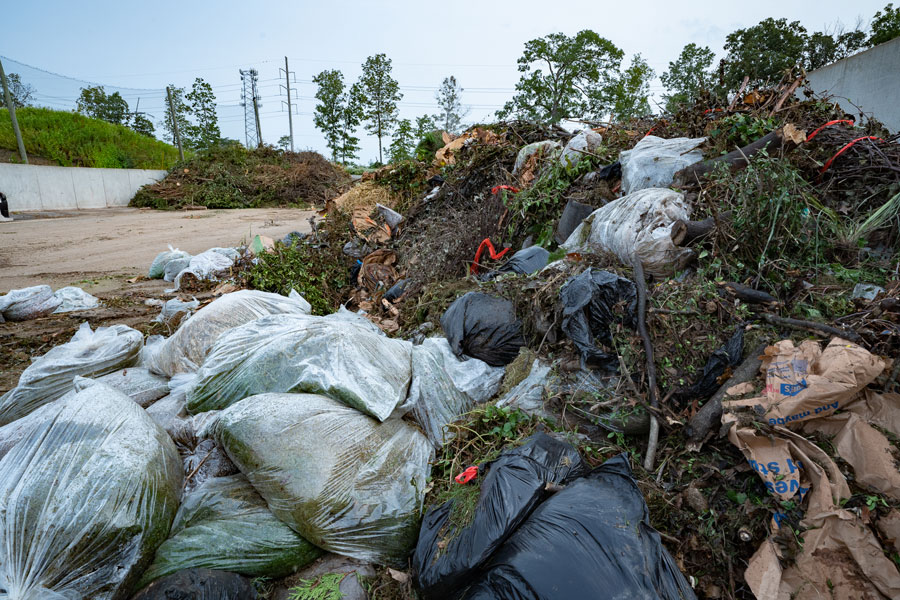 Unlike high-speed grinding, low-speed shredding breaks down and homogenizes the incoming waste while keeping the particle size large. This makes it easier to sort and remove contaminants downstream in the process, even after the windrow stage. The Komptech Crambo is a dual-shaft shredder that produces a coarse-cut, shredded particle at approximately 6-inch minus, depending on machine configuration. The larger sized shredded materials not only make contaminants easier to remove, but also helps provide porosity and promote better airflow throughout the compost pile.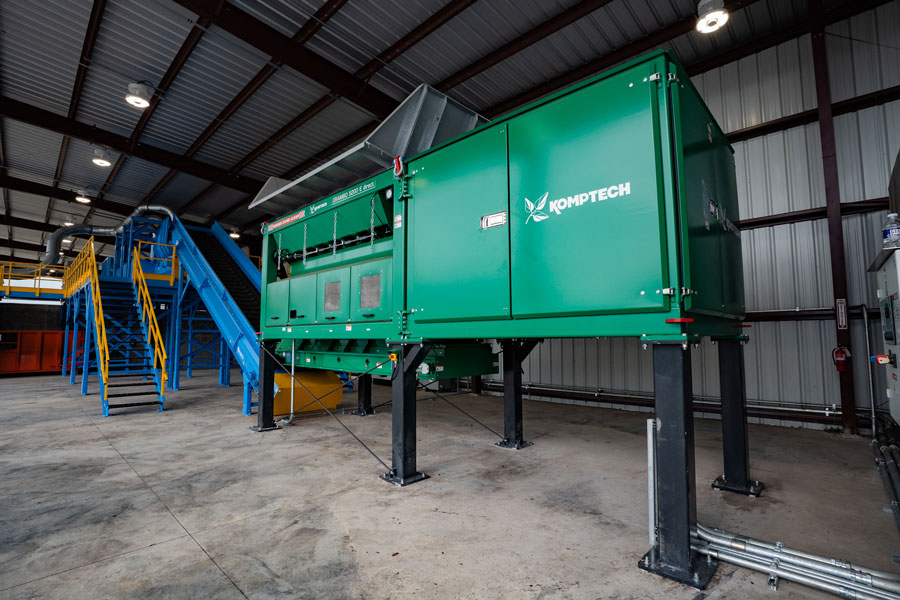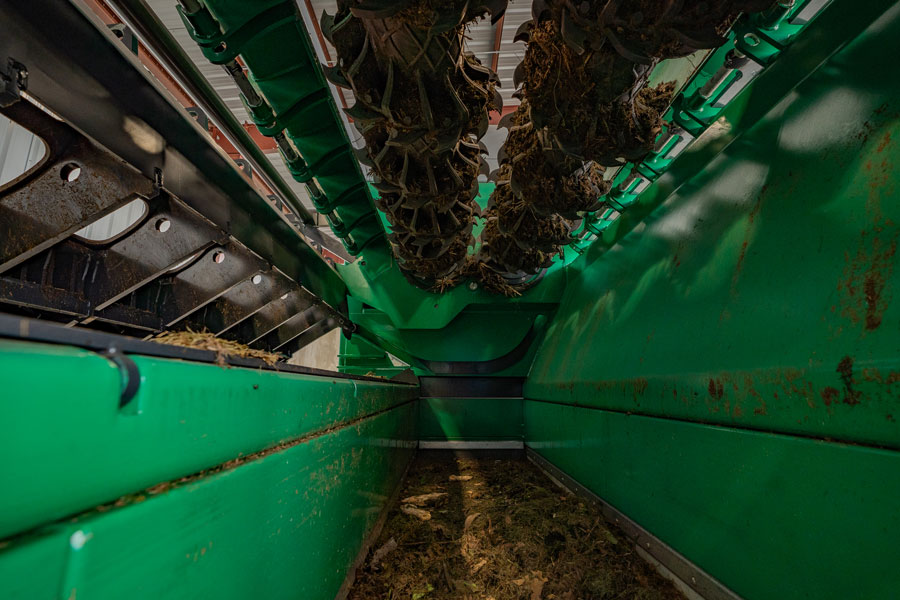 Keeping a small environmental footprint while adhering to high safety standards was a top priority for Freestate Farms when they chose their equipment solutions. With lower energy consumption and maintenance costs than most grinders on the market, choosing the electric Crambo shredder from Viably (formerly Komptech Americas) was a no-brainer for the Freestate Farms team.
"We have an incredible safety record and are always interested in doing things in the safest, most efficient and environmentally responsible way possible," says Riedel. "We chose the Komptech shredder because it allows us to create a high-quality compost effectively and safely from our incoming material."
Sorting and Mixing
To remove any non-compostable materials, the pre-shredded feedstock material is next sent through a three to four-person picking line. Designed, manufactured, integrated and installed by Sparta Manufacturing, this sort line is equipped with a powerful cross-belt magnet to mechanically remove metals, and an overhead vacuum system to help manual sorters optimize the capture and containment of film plastic (shredded plastic bags).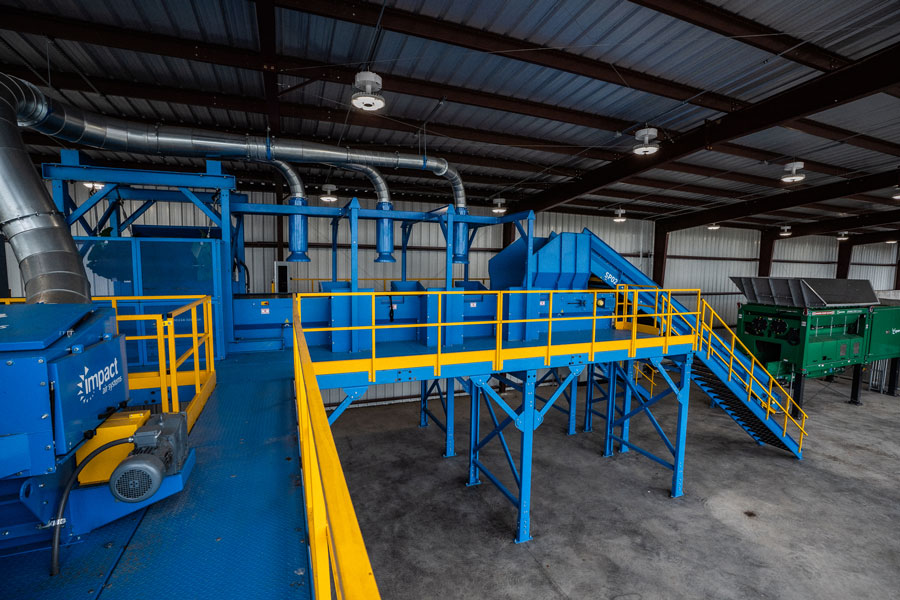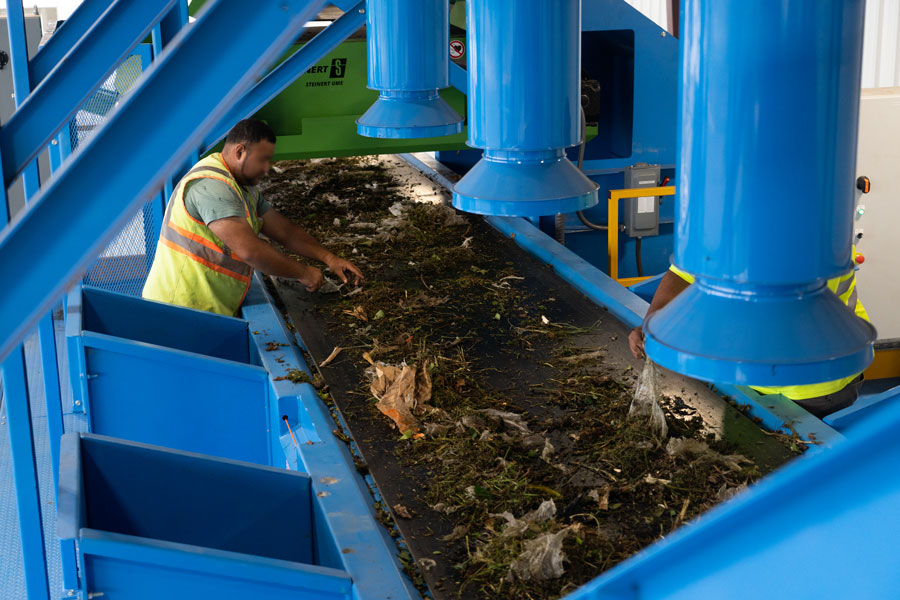 "We believe that the best compost can be made when you start with clean incoming material versus trying to remove those contaminants at the end of the process, says Riedel. "We designed a process that removes as many non-compostable materials as possible before we even start the actual decomposition process."
The mixer is the next step in Freestate's composting process. The mixing machine, supplied by ECS, blends raw, pre-shredded feedstock materials uniformly before composting and adds recycled leachate if additional moisture is needed. Mixing helps circulate the carbon and nitrogen materials evenly to promote faster decomposition and virtually eliminate odors. Mixing also helps ensure that microbes (the small, living creatures that drive the composting process) have the perfect environment to thrive.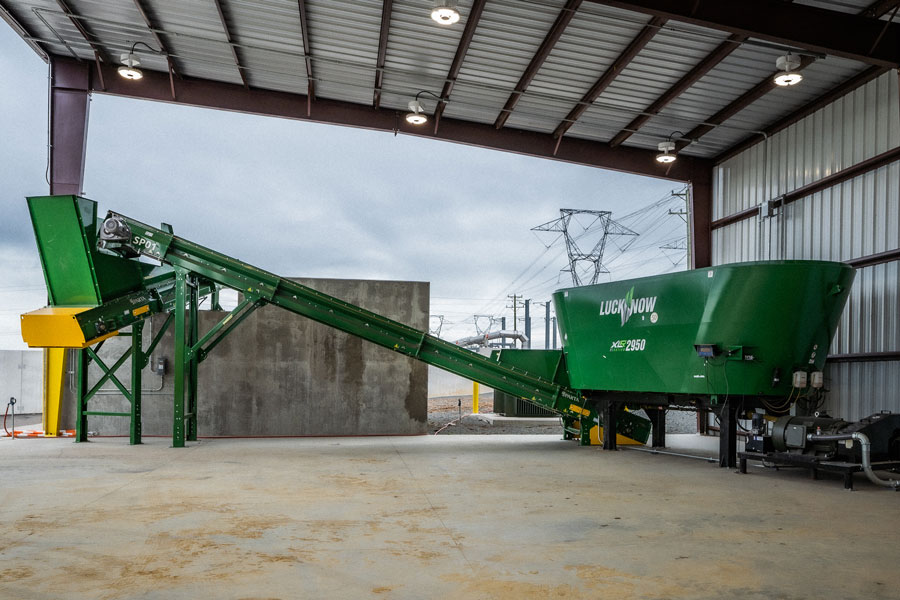 Processing and Composting
With the feedstock materials freshly shredded and mixed, it is now ready for the active composting phases. First, material is moved to one of the fourteen 2,500 square feet bunkers for around 15 days. This bunker process utilizes positive and negative aeration, although negative aeration is used most frequently to capture any potential odors. The air is then deodorized through a biofilter before it is released back into the environment.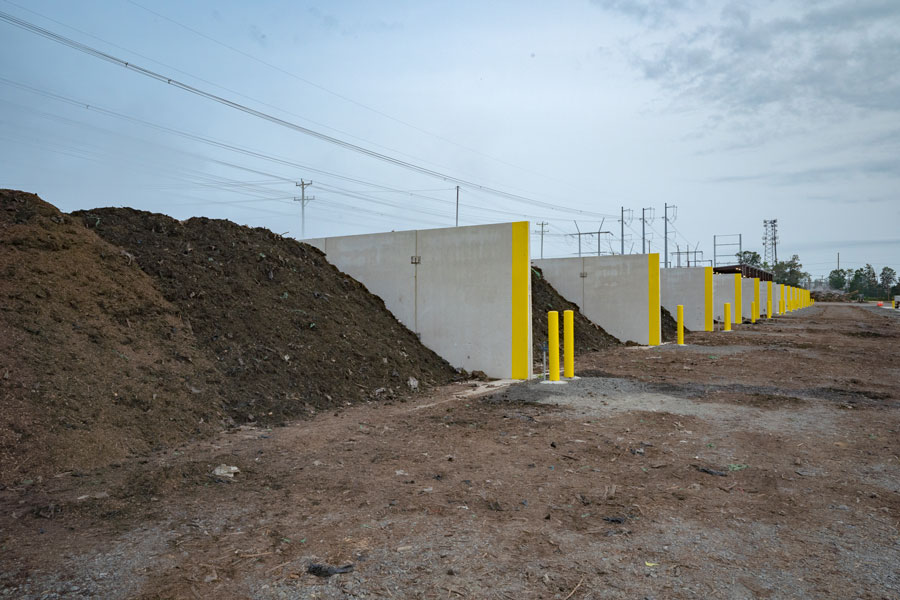 Following the bunkers, the material spends the next 30 days in long windrows on large concrete pads equipped with an inlaid positive air distribution system, somewhat akin to a very large air hockey table. During this step, the composting material breaks down further and reaches PFRP, the Process to Further Reduce Pathogens.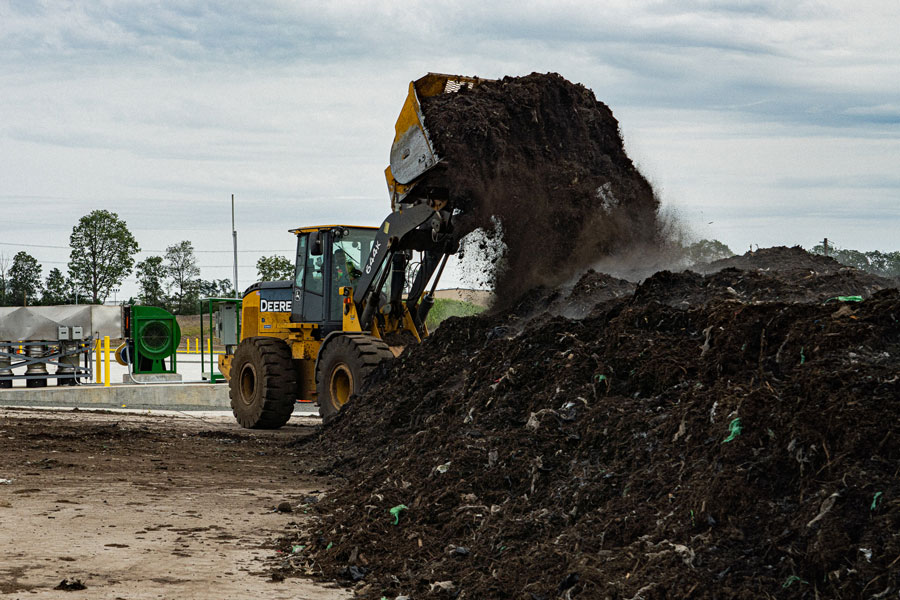 Throughout the entire process, digital temperature probes are placed into the composting material for continuous measurement and automatic system adjustment. The probes report real-time temperature data to Freestate's computer control system, which records the data and adjusts the positive and negative aeration to help ensure the compost remains at the ideal temperature for decomposition.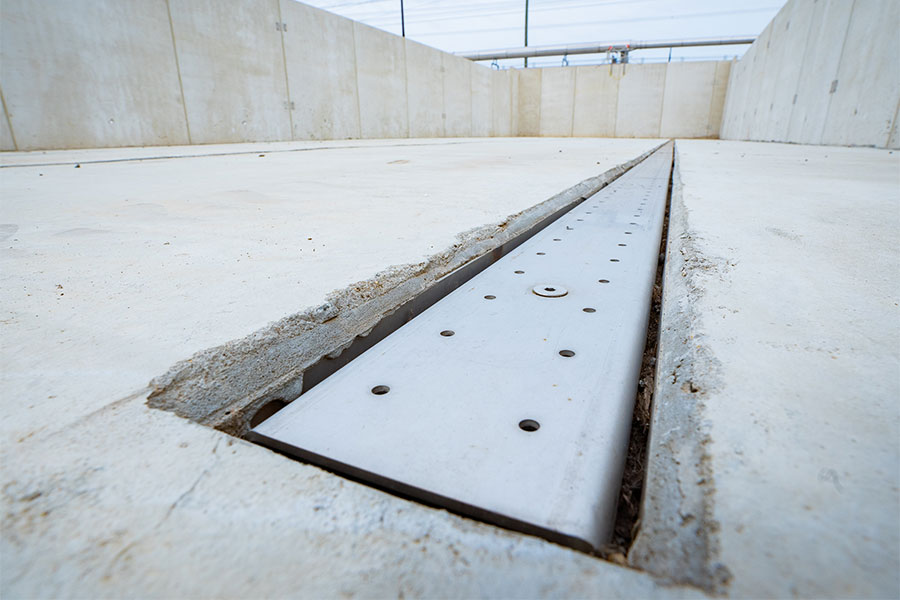 Moisture is a critical component of composting. Leachate, the liquid produced during the composting process, can contain high levels of nutrients. Throughout the composting process, Freestate Farms captures the leachate through a specially designed system and transfers it to an aerated holding pond. When moisture is needed for the composting process, the leachate is pumped through a filter and back to the beginning of the process, bringing valuable nutrients with it. By recycling what would otherwise be discharged to sewer, Freestate is able to minimize its actual waste output while at the same time also making a better compost.
Finally, the compost is screened to remove any remaining non-compostable contaminants or large materials that did not fully break down naturally. Materials such as large sticks or compostable utensils may need to go back through the process again. Freestate Farms utilizes several different screen sizes which allows them to customize the final compost product for various uses.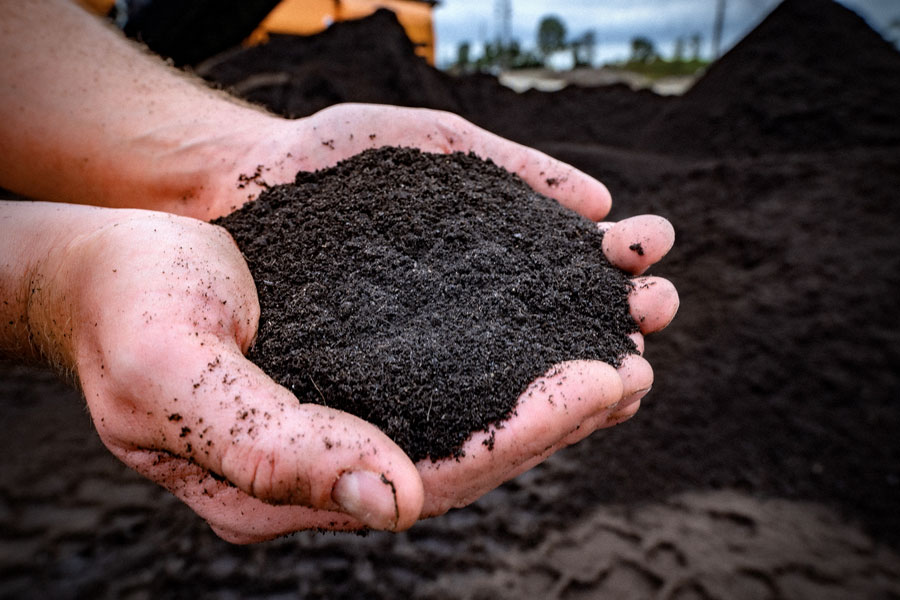 Freestate Farms works hard to consistently create a finished compost product that exceeds consumer expectation.
"We look to create a top-of-the-line compost that exceeds testing criteria, "says Riedel. "For us, quality goes beyond just product quality. It's the customer experience and every interaction our customers or partners have with us."
The Broader Impact of Compost
"Composting and using finished compost have become one of the leading ways that individuals—and society more broadly—can help the environment because of the reinforcing benefits for our soil, air, and water," says Riedel.
Compost can retain up to 20 times its weight in water. Vegetables, for example, require one inch of water per week to grow successfully. By adding compost, the soil surrounding those vegetables will hold two weeks' worth of water supply. As a result, less water is needed, which is especially beneficial during drought.
In contrast, during rainy seasons, compost reduces soil erosion and runoff by helping establish new vegetation and holding some of the excess water. Indeed, Stormwater Management Best Practices now frequently include compost—in recommendations for bioretention facilities as well as filter socks and berms—to leverage its ability to reduce erosion and protect downstream water quality by binding or breaking down potential pollutants.
According to the Environmental Protection Agency (EPA), food and yard waste account for more than 30% of what we throw away. When this waste is placed into landfills, the organic materials don't have access to oxygen and produce methane gas that is released into the atmosphere. Methane gas is 25 times more harmful than carbon dioxide (CO2). Instead of transferring food and yard waste to landfills, it can be recycled to create compost, prevent the associated release of methane gas, and ultimately return important nutrients back to the earth.
Looking Towards the Future
As part of the agreement with Prince William County, Freestate Farms will begin construction of Phase Two of the facility development project in 2021. Although specific details have not yet been released, this second expansion will further expand the capacity of the current site, as well as add renewable energy generation capabilities and enable Freestate Farms to grow and distribute its own organic food.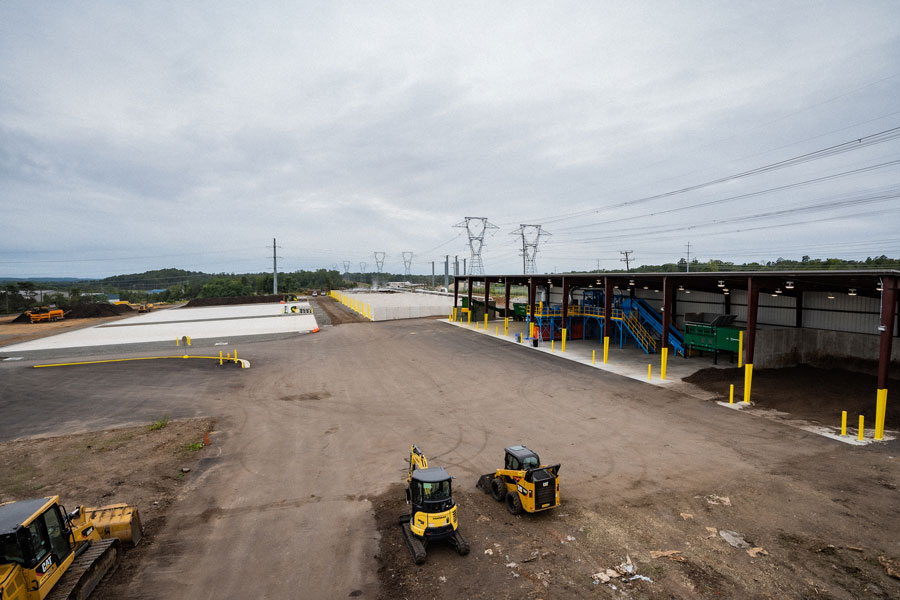 Freestate Farms' state-of-the-art composting facility produces top-of-the-line compost products with a minimal environmental footprint while helping to optimize waste management in the region. With the additional waste processing capacity dedicated to recycling food and yard waste that would otherwise be buried in the Prince William County landfill, this new facility has effectively extended the life of the County's landfill by 10 to 15 years.
"We are very excited about what we have built in Prince William County," says Doug Ross. "Together with our partners, we created new and tailored best practices for composting organic materials and, through our upcoming ability to generate renewable energy and grow local organic produce, we are expanding what people can and should expect from a composting facility."
In 2013, the founders of Freestate Farms set out to find ways to enrich their local soils to produce healthier food and plants for their community. Today, Prince William County has advanced compost resources and products available from Freestate Farms that will enable residents to improve soil health, together as a community, for years to come.
—
ABOUT FREESTATE FARMS
With integrated facilities for organic waste recycling and organic food production, Freestate Farms uses state-of-the-art technology and sustainable operations to address the unique needs of its local communities. Through design, construction and operation of these full-circle solutions, Freestate Farms delivers increased soil health and productivity, reduced water use and pollution, minimized greenhouse gas emissions, and a more sustainable local community.
Learn more at https://www.freestatefarmsva.com.